Tired of soggy paper straws? Or bio plastic (PLA) straws that melt and can't be composted at most facilities? Maybe reusable straws and cutlery are not practical for your business. Trying to do the right thing for your customers and the planet isn't easy. There's a lot of misinformation out there.
A simple Solution
Our all natural, one ingredient straws, stirrers and cutlery made from plants. They are durable, gluten-free,  never soggy, certified compostable and a cost effective solution to plastic pollution.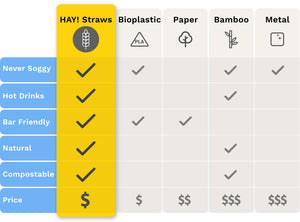 Say goodbye to soggy straws and false promises of "eco friendly" bio plastics and say hello to HAY! Straws.
Choose Your Drinking Straw
We have drinking straws for all your drink and business needs.
See What Customers Are Saying
Customers love 'em. They're not plastic. 'nuf said!
Paul M
These straws are the best. They don't get soggy or flimsy at all. Honestly, these straws have better structure than plastic. Perfect for tiki drinks!
Scott C
Great conversation starter at the bar. We switched our bar program to HAY!
Al G
Everyone in our office loves cutting down on plastic but HATES the feeling of paper straws. So! HAY! has been perfect for everyone. They stay sturdy even if you leave in a drink for hours. They can double as a stirrer for coffee. We're very happy with them!
Britain V
Love 'em! Definitely the best straw on the market they have the same feel as a plastic straw and do not get soggy at all! Love to take them anywhere I go.
Sasha
We have been a fan of HAY! Straws for some time now. Our most recent order solidified our commitment to them. After a warehouse mix-up of our actual order and a plea for help, because we were totally out of straws, Raul made sure that they overnighted our order and saved the day. No hassle- just pure customer service. If you haven't tried these straws yet- DO IT. Our customers are so appreciative of them.
Deborah R
The perfect straws for the bar! Hay straws don't get soggy and are much better or the environment. win-win.
Erin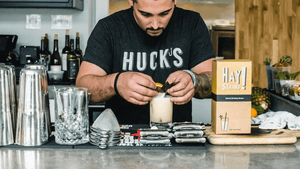 Make Your Business More Sustainable
Offering the best drinking straws and eco-friendly cutlery is one small part of creating the best dining and drinking experience for your customer. Elevate your menu with products that show your business cares about the environment and wildlife.
Request a HAY! Straw sample