Straw Ingredients + Certifications
Our HAY! Straws® and Stir Sticks are made from natural plant stems and are 100% biodegradable, which means they won't linger in landfills, polluting our land or oceans. They are similar in feel and function to the plastic straws we've all become so accustomed to, but without the toxins and the damaging footprint on our earth. Unlike paper straws, HAY! Straws® are made from a renewable source, they are gluten-free and best of all, they don't get soggy!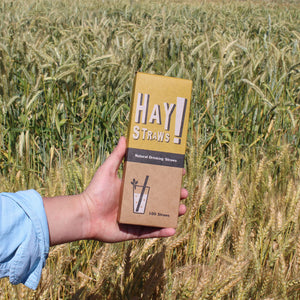 Made From REAL Plants (the renewable kind)
Our Original HAY! Straws® and Stir Sticks are made from the stem of the wheat plant, a byproduct of wheat production. Wheat is typically grown for its grain, which gets made into flour and other food products. Once the wheat plant reaches maturity and turns golden yellow, the grain is harvested off. The wheat stems get cut and made into things like hay for animal feed and are even burnt in some places, in our case, we make straws. Wheat is an annual harvest crop which makes it renewable and far more sustainable than paper straws. Contrastingly, a tree takes 20-30 years to reach maturity to be harvested. Our Jumbo collection is also 100% natural and made from reed plant stems. Reed plants are actually an invasive plant species in a lot of countries and once cut, they can regrow quickly due to their rhizome root system. This makes them ideal for our renewable drinking straws.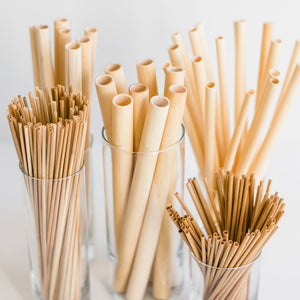 Minimally Processed and Not a Bio Plastic!
Unlike paper straws that have been pulverized with chemicals, or bio-plastic straws that are made with a concoction of additives, our HAY! Straws® are 100% pure nature. After harvesting, the wheat and reed stems are cut to length, rinsed thoroughly in sterile water to remove dirt and bacteria, and then dried through a commercial, food grade drying system that dries and sterilizes the straws. Each straw, like our customer, is unique and varies ever so slightly straw to straw.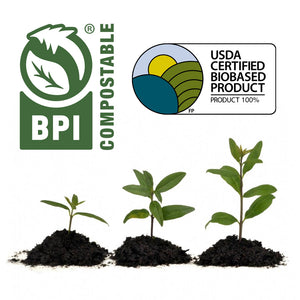 100% Compostable and Certified
We're independently verified by the USDA's BioPreferred Program and the Biodegradable Products Institute (BPI) as 100% compostable. In fact, our Original wheat drinking straws break down in just 42 days at a commercial composting facility. Our straws are safe to be composted in a backyard compost bin because they're literally a piece of plant stem or made from actual straw. Nevertheless, we are certified as "commercially compostable".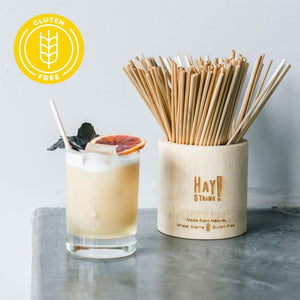 Verified Gluten-free
We have two types of straws, our Jumbo straws made from reed plant stems which are wheat, gluten-free and are produced in the same facility as our Original wheat stem straws. 
All our Original HAY! Straws® are made from the wheat stems, not wheat grains (where gluten is present) and do not contain gluten. We use quantitative gluten testing to batch test regularly to confirm the gluten is under 10ppm–per the Gluten Free Organization's standards. All our tests have come back as gluten "not detected" and we're happy to provide those to customers on request. Only wheat stems are processed at our factory. Wheat grains have already been removed and harvested before we process and clean our straws. That said, they are made from wheat stems so we do not recommend them for people who have a wheat allergy (different from a gluten allergy) or severe grass allergies (to straw or hay). You can always consult with your allergy specialist if you are not sure. All straws are cleaned using water and high heat sterilization, using food grade equipment prior to being packed.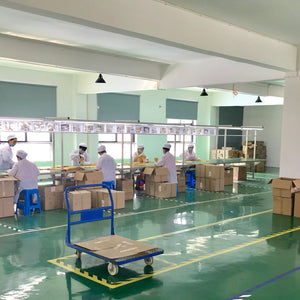 Ethically Sourced and Produced
We source our wheat and plant stems from small, local farmers in Eastern Europe and SouthEast Asia. Purchasing the plant stems directly from farmers or small co-operatives offers an additional income to their harvest crops and provides work in rural communities. Our production managers have personally visited the farms to ensure there is no forced or child labor and that we get the best hand selected plant stems. At our production facility, the production management team upholds the highest standards of occupational health and safety, and humane work hours and wages are enforced. The facilities are independently audited to make sure the highest quality and ethical standards are being met.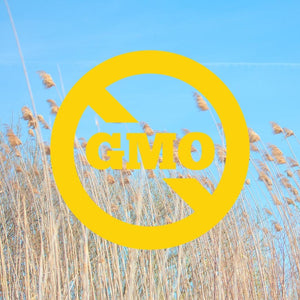 Non-toxic and Non-GMO
Our straws are simply made from plant stems and are non genetically modified. Fun fact, wheat plants don't need to be GMO and are instead bred to mix traits that are desirable for bakers and the food industry. Our reed stem straws are grown organically and we use a combination of organic and conventionally farmed wheat stems for our original wheat stem straws. Our farmers use minimal sprays and we have independently tested our products to make sure, if there are any chemical residues, that they meet food safety standards. Our products are also Glyphosate-free (Round Up).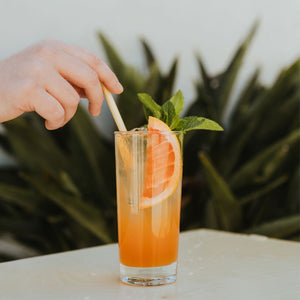 Meets Food Safety Standards
Food safety is a must. We produce our straws following Good Manufacturing Practices (GMP)  and follow the Food and Drug Administration (FDA) Food Contact Safety Guidelines in our facilities. The FDA only regulates drinking straws that have had chemicals added during processing: For example paper straws, which require bleach and inks for their production; Or stainless steel straws, these go through a multitude of chemical baths during processing. Because we are all natural, we fall outside of FDA's product categories. However, to assure our customers the safety of our products, we have independently tested our straws for things like heavy metals, chemical residue, BPA and strictly adhere to guidelines. We are EU compliant and have passed the EU migration test (Commission Regulation (EU) No. 10/2011). All our products are barcoded and have a batch number that we can trace right back to the raw materials, it's truly seed to sip.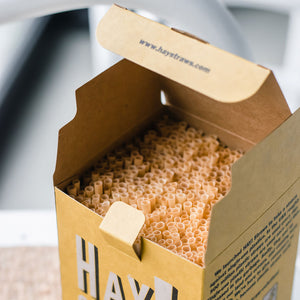 Eco-packaging by FSC Certified Sources
After being processed, our straws are carefully checked for quality, then hand-packed into our unbleached kraft boxes, adding the final plastic-free packaging touch. We source our cardboard from suppliers who are certified by the Forest Stewardship Council (FSC) and have chain of custody documents to prove their raw materials are sourced with sustainable forestry practices. We print using eco inks like soy or water based inks, UV print technology to reduce excess ink, solvents and VOCs which makes a healthier print environment for workers and less air pollution. We use recycled cardboard wherever possible, package our wholesale cartons and shipping boxes with paper tape that can be recycled instead of all that pesky plastic tape. We're proud to ship to our customers plastic-free.
Ready to join the Straw-volution™?
Shop our site to grab a pack for yourself or a wholesale case for your business. If you're looking for more reasons why HAY! Straws® are the best eco straw alternative, check out our comparison page or email us at hello@haystraws.com to get in touch with a Straw Specialist.